"Green Restaurants" on Korcula Island
"Green Restaurants" on Korcula Island
….and the story of how one can act more sustainable and eat deliciously at the same time.

In recent times the care and protection of our Planet is gaining more and more attention. And rightly so.

We at the Adriatic Pearls know how important it is to preserve our natural environments and are passionately taking part in this new movement to protect the Planet.

We were woken up to this issue a couple of years ago when we signed the petition against the construction of oil platforms on our most precious natural pearl - this magical Adriatic Sea.
What measures are we taking to protect this paradise and offer you authentic local experience?
When choosing or building a new luxury villa or vacation house in Croatia, we are orientated towards nature friendly green-energy and low-CO2-footprint houses. If that is not possible, we try to offset the CO2 from the houses that we manage and take care of.
As a result our luxury vacation house Sunshine gained a CO2 certificate for the carbon footprint offset as well as luxury villa Nelly on Peljesac Penninsula just accros the Korcula Island, and our new luxury Eco aparthotel The Dreamers' Club was built with ecological and environment friendly materials with use of green energy.
To make a change it has to start with small steps. Each of them counts to build bigger achievements and gain momentum.

One of the steps is also inspiring our guest by recommending them our favourite "green restaurants", which support local and organic agriculture.
How to understand Dalmatian cuisine?
Firstly, let me explain the word "Konoba" to you. It is widely used in Croatia and means some sort of a local tavern – more authentic, home-made, 100% local cuisine in a rustic, simple and more basic environment.
"Agrotourism" means even one step further – only taverns, that use only their own food and drinks, are allowed to have that name. Only sparkle water is allowed to be bought from the store, all the rest must be produced on their own (wines, juices, vegetables, meat and fish).
"Restaurant" means that they offer international as well as local cuisine with a bit more modern setting.
Here are our Top 7 Green Restaurants on the Korcula Island
Konoba Aterina is a real gem – here you can get a real taste of Dalmatia! It is situated in the southwest corner of the Korcula old town, on a big terrace, overlooking the sea with beautiful sunsets. The setting is rather simple, but playful and cute. Konoba Aterina is deeply involved into supporting local organic vegetables.

Base of the menu represent fish and vegetables, as well as traditional pasta dishes, home baked bread and nice local wines (Grk rosé is my regular choice). I love to order a little "Dalmatian plate", the plate with all delicious antipasti they offer. Highlight is also the soup of the day, which brings me back to life, as it is so delicious!
The beauty of this place is that they cook with so much love, that one can actually taste it.
You must try the absolutely fabulous almond cake, or go for a fresh basil cheesecake or delicious beaches in local Grk wine!
The offer includes also vegan meals, as well as several vegetarian (baked aubergines with goat's cheese for example) and gluten free dishes.
Konoba Mate lies in the small village of Pupnat and is particular interesting as is their motto "Living with nature, living in one cycle." The Farac family invests lots of love and care into their own home-gown vegetables, and as people living on the countryside sticking with tradition, they also take care for their animals :)
Offering homemade and ecologically prepared Sage syrup, almond pasta pesto, smoked ham omelette with fresh asparagus to grilled meat, labourer's plate and lots of other specialities, this restaurant is a lovely local experience in a forgotten village along the main road.
This combination of simple food recipes with special and traditional herbs leaves nobody indifferent. Remember to bring cash money with you, as they don't accept credit cards.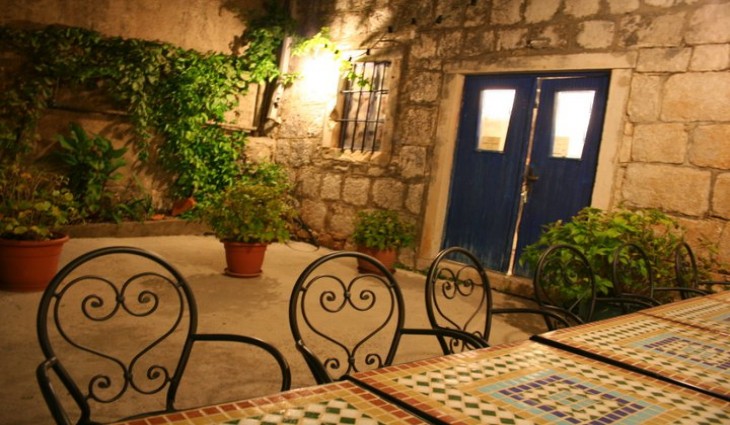 Wellcoming atmosphere in konoba Mate

Next on the list offering great organic produce and wonderful fish meals is the Restaurant Filippi in the charming old town Korcula. The atmosphere there is absolutely fabulous: tables are set in an exquisite location at the edge of the cliff (!), overlooking the sea towards panoramic Peljesac peninsula and Korculas archipelago.

In their offer you may find modern Dalmatian cuisine, based on local artisan pasta and fresh herbs, fantastic octopus and duck specialty. My personal favourite is definitely the best cheesecake I have ever had, although I was never a fan of it.
Also you should get spoiled by a very good selection of the best wines in the region, as you can get a taste of wines of those smaller boutique producers, which are not widely available due to the small quantities.
I choose this restaurant when I celebrate something special, as the setting it super romantic.





Dalmatian prosciutto platter
In the narrow streets of Korculas old town there is konoba Mareta, an excellent choice for vegetarians and those seeking a more healthy way dining. In their mixture of traditional and modern day food one can enjoy delicious fresh fish, meat, vegetarian specialities and refreshingly different oriental cuisine as well.

Choose between tasty appetizers such as avocado with prawns in cocktail sauce or carpaccio salad from octopus with ruccola and parmesan cheese, and continue to main courses like steak with delicious pepper sauce.
Konoba Mareta supports only local and confirmed grocery stores, and 75 % of the vegetables they use in the kitchen are grown on the local Eco-farm. They have quite a large choice of meals and when you get bored with traditional Dalmatian cuisine, here is where you go.
The owners, a couple mixed from German wife and a Dalmatian man, are both vegetarian, and that explains a rich offer of vegetarian dishes.
Ranch Maha is a meat-eaters' paradise! It lies 8 kilometres from the town of Korcula towards the town of Vela Luka on the main road.

It is a tavern and a family homestead rolled into one. The interior and the exterior of the tavern are made in traditional Dalmatian style, so you can admire natural stone walls, rustic furniture and charming lightning.

With 12 years of creating exquisite local cuisine, this family business is a real treat. All the food is home-made and prepared with fresh organic ingredients, which grow in the family's garden. During the summer months you can relax and enjoy a refreshing cold drink in the garden or terrace :)

One of our guests said that this is the best steak he ever had and went to Konoba Maha several times during their stay :)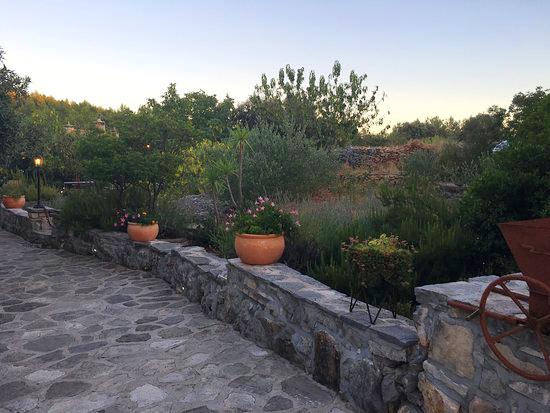 Mediterranean garden of ranch Maha


Konoba Grubinjac, located on the main road Vela Luka – Korcula, just before you reach Korcula town, is a place with big heart. This is one little charming garden with a couple of tables around a stone house.
The owners restored an old farm and then transformed it into a charming place where you have an impression you sit in the garden. Family owned konoba Grubinjac serves great local vegetables, fresh fish and octopus and it all comes in generous portions :)

Be sure to call in advance to order the local dish "Peka" - vegetables and meat baked under a bell-like dome. I love their skewers with octopus and shrimps and the vegetables on the grill, mmm I miss this place already J

Gavuni is another gem from Lumbarda village. It is a small fish "fast food" (in a good way, very healthy and fresh food) at the edge of the peaceful bay, with perfect setting along a turquoise sea.

The family owns this business so their sons catch the fish, sardels, tuna and octopus, and their mother prepares it with an amazing talent. The service is quick, food is excellent, prices are acceptable, and the setting allows you to paddle there in your bathing suit and park your kayak, SUP or a boat directly in front of the little charming self-built fish place, so you can built a fun component into visiting this place. :)

Some guests, when they discover it, don't move from there for days. Which is kind of sad if you consider other great places, so don't visit Gavuni too early on your holiday :)
Last but not least, my "second home", Konoba Maslina. Alongside the road at the entrance of Lumbarda town, just 4 km from the old town Korcula, lies this magical little place. The setting itself will not flash you away, as there is no sea view or something similar, but the covered terrace with toys and trampoline for children will serve as an excellent way to spend your dining time with kids.

The restaurant is known all over Korcula Island for the local speciality called "pogacice" (bread triangles ) and also their home-made goat cheese.

A real treat is delicious pasticada (pieces of beef marinated for 2 days in a special sweet-sour souce) with homemade gnocchi.

My personal favourite is grilled octopus with potatoes from grill, for which I would die for :)

Next are grilled aubergines in a tomato sauce with gratinated cheese over it, a great vegetarian dish.

The most famous are definitely home made "Zrnovo" macaroni (pasta) with octopus, shrimps or meat. There are several more dishes that most people are really crazy about (especially considering the portions are big and the price is good) but I won't give away just everything so you have something to discover as well :)

As you can see, Korcula Island is full of wonderful tastes. When on holiday, eating is an important part of my holiday so the thing I value the most is a good tip for a local tavern.

This guide is supposed not only to indulge all of your gastronomic senses and flash you away with amazing tastes, but also offer you a healthy, fresh and sustainable dining option.

In this way, you are contributing to a local community and at the same time experiencing the best fresh food Korcula Island has to offer.

Our mission is to make you fall in love with this region and develop passion for protecting it.

The way we do is to provide you with not only charming accommodation directly at the sea or some place near it, but also give you our personal tips and tricks of how to experience this island in an unforgettable way.
Eating delicious, healthy and "green" food on Korcula Island is one important component and we are sure you will love it as many others have!

…Fall in love in the Adriatic Sea…
Mediterranean, as it once was!