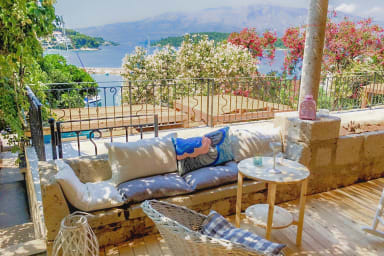 Eco Aparthotel The Dreamers' Club - Arabia for 5
Apartment in Korcula Island, Dalmatian Coast
---
4-5

People

2

Bedrooms

1

Bathroom

45m²
Popular family holiday destination in Lumbarda on Korcula Island, for people searching Zen, untouched Nature and high aesthetic experience.
Introducing the newest addition to our collection of luxury accommodations, the Eco Aparthotel – The Dreamers' Club! Combining innovative design with nature-friendly materials, this boutique hotel has been crafted to give back to mother nature whilst providing a cozy vacation retreat for guests.
The Aparthotel features six stunning apartments, each uniquely designed to ensure maximum comfort and convenience for guests. Nestled within a 110-year-old stone Mediterranean house, which has been renovated with utmost care towards Dalmatian tradition and nature, the property is surrounded by 1500m2 of lush green terraces, providing a tranquil and peaceful oasis to recharge and relax.
A standout feature of The Dreamers' Club is its playful green outdoor space, boasting an array of terraces complete with lounges, sun beds, hammocks and even a tree house on a 100-year-old tree!, providing the perfect space for guests to bask in the Adriatic sun.
Apartment Arabia is a stunning example of the hotel's commitment to quality and comfort. This apartment is perfect for accommodating four people comfortably, with an option for a fifth person sleeping on a big couch or an additional bed. The apartment includes two double beds, one in a separate bedroom (separated with harmonic sliding doors) and the other in unison with the living room area, a fully equipped kitchen, SAT-TV, and a modern bathroom with a big SPA shower and WC.
This apartment has an air-conditioning units that cool and heat very good as well, and a smoke detector.
Guests can relax on their private terrace (30m2) surrounded by lush Mediterranean plants, taking in the breathtaking sea view of the Adriatic Sea and its small islets.
At Aparthotel The Dreamers' Club, we believe that starting your day off right is essential. That's why we offer an optional breakfast/brunch, which can be ordered on site for a fee of 25,00 € per day and person. For children between the ages of 0-6, the cost is 15,00 € per day.
In keeping with the eco-friendly ethos that underpins our hotel's construction, we take pride in using only the finest organic ingredients in our breakfast. With us, you can be sure that you are getting the best-selected food on your plate.
Our breakfast is served in the comfortable lounge area and features a delicious spread of freshly squeezed orange juice, flavorful herbal teas, and rich organic coffee. We offer a wide variety of delectable treats, including ecological goat cheese, locally grown tomatoes, fresh basil, premium olive oil, homemade honey and marmalade, and a colorful assortment of fruits and yoghurt.
For those who like to indulge in savoury breakfast items, we offer a platter of Dalmatian smoked ham, as well as a Buddha bowl that features a mix of fresh and grilled vegetables, local cheese, and much more. Our chia pudding with local yoghurt and fruits is also a fan favorite among our guests.
Every day is a new start, and our breakfast menu is never totally identical, so you can always look forward to a fresh vibe. You can arrange your breakfast on-site each morning with your friendly hostess.
The hotel offers free Wi-Fi, EV charger and private parking to ensure maximum convenience and comfort for guests. Located in the charming town of Lumbarda, only six kilometres away from the historic Korcula town, guests can enjoy easy access to many local amenities and attractions. From sandy beaches to picturesque vineyards, there is something for everyone to enjoy in the surrounding area.
Discover the stunning beaches that await you just steps away from Aparthotel The Dreamers' Club! Immerse yourself in the crystal clear waters of the first pebble beach, Prvi Zal, located only 50 meters away. This beach offers a plethora of water sports and activities for you to enjoy, along with a local Beach club where you can indulge in refreshing drinks during the day and delicious cocktails at sunset.
For families with young children, the nearby sandy beaches of Bilin Zal and Przina (1 km away) are a perfect choice. Both offer excellent amenities, including bars and restaurants, to ensure your day at the beach is nothing short of perfection.
Bilin Zal, situated on the northern side of Lumbarda, boasts a magnificent view of the Peljesac Peninsula. To reach this beach from The Dreamers' Club, you can take a leisurely stroll along the scenic seaside pedestrian road.
The clear and transparent waters of these beaches also provide an excellent opportunity for diving enthusiasts to explore the stunning underwater world. Don't miss out on experiencing these beautiful beaches during your stay!
How to reach Lumbarda
By Airplane:
The most convenient way to reach Lumbarda is by flying to Dubrovnik International Airport or Split International Airport. From either airport, you can take a comfortable catamaran ride to Korcula town. Once you arrive in Korcula, it's just a quick 10-minute taxi (20,00 €) or bus ride to your apartment in Lumbarda.
By Car:
If you're travelling by car, there are three main routes to consider. The first option is to drive from any point in Europe, passing through Slovenia, and reach the coastal town of Split, which boasts a large ferry harbour. From there, you can take a 2.5-hour ferry ride to Vela Luka, a town on Korcula Island. From Vela Luka, it's only a 45-minute drive to Lumbarda.
The second option is to pass through Split and reach the coastal town of Ploce, where you can board a ferry to Trpanj on the Peljesac Peninsula. From Trpanj, it's just a 25-minute drive to the harbor town of Orebic, where you can catch a car ferry to Korcula Island. From there, it's only a short 5-kilometre drive to Lumbarda.
The third and newest option is to cross the Pelješki Bridge from the town of Komarna. This stunning bridge offers breathtaking views of the surrounding landscape as you drive towards Brijesta, and from there, it's only a 45-minute drive to Orebic. Once you arrive in Orebic, you can catch a ferry to Korcula (Dominče). From there, it's only a short 5-kilometer drive to Lumbarda.
+ More
Less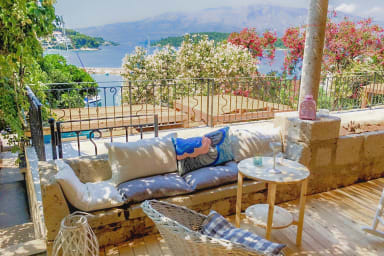 The Space
Accommodates: 4-5
Bedrooms: 2
Bathrooms: 1
Property Type: Apartment
Check-in: 16:00
Check-out: 10:00
---
Amenities
Babysitter recommendation

Bathroom step free access

Cleaning and disinfection

Extra pillows and blankets

Laptop Friendly Workspace

Long Term Rentals Available

Rainwater harvesting system

Paperless / recycled paper

Suitable for children (2+ years old)

Suitable for infants (under 2 years)

Information about property sustainability

Sustainability projects support

Towels changed upon request
Gwen H.

Relaxing in Korcula!

We stayed in a 2-bedroom on the ground floor. The views were beautiful from our patio area! There are many areas on this property to just relax and hang out. The breakfast we purchased was VERY healthy and beautiful. The staff was exceptionally kind and helpful. There were about 55 steps to climb from the street to our unit. There are many restaurants within walking distance. We drove to two different beaches that were about 30 minutes away. Well worth the time!

September 2023

---

Maurizio B. (

Switzerland

)

Truly relaxing and enjoyable

Everything from the location to the apartment was great. The staff is incredibly friendly and always present but absolutely discreet. Lunbarda is an oasis of peace.

August 2023

---

Ein unvergesslicher Urlaub!

Tolles Appartement in einem wunderschönen Ambiente. Toller Ausblick, schöner Garten mit altem Baumbestand und entspannenden Wohlfühlzonen. Auch das Frühstück ist sehr zu empfehlen. Man spürt und sieht, dass dieses Haus mit viel Liebe zum Detail restauriert wurde, den alten Mauern wurde auf nachhaltige Weise neues Leben eingehaucht. Da kann jeder Neubau einpacken. Alles Gute und danke, wir haben es sehr genossen!

July 2023

---

Andreas m.

Wir hatten einen unglaublichen Aufenthalt an diesem Ort

Die Lage ist absolut wunderschön und bietet viele Loungespots zum Entspannen. Das Baumhaus war so niedlich und verlieh der Umgebung einen besonderen Charme. Das servierte Frühstück war erstaunlich und bestand aus gesunden Optionen, die wir sehr genossen haben. Ein Highlight war die geräumige private Terrasse, die zu unserer Wohnung gehört und einen atemberaubenden Blick auf das Meer bietet. Wir haben dort unzählige Stunden verbracht, die Sonne genossen und die friedliche Atmosphäre auf uns wirken lassen. Die Lage selbst war ideal, da sie in der Nähe des Strandes, des Marktes und der Restaurants lag. Trotz der zentralen Lage blieb es erstaunlich ruhig und friedlich. Die Gastgeber waren fantastisch und haben alles getan, um unseren Aufenthalt angenehm und komfortabel zu gestalten. Ihre Hilfsbereitschaft und Aufmerksamkeit haben uns das Gefühl gegeben, wirklich willkommen zu sein. Wir freuen uns bereits darauf, an diesen wunderbaren Ort zurückzukehren.

July 2023

---

Rhea J.

Paradies!

Ich schreibe eigentlich nie Bewertungen… Aber diese Unterkunft hat es verdient. Alles war perfekt. Die Wohnungen sind super sauber und ordentlich. Der Garten ist einfach genial und traumhaft schön. Das Frühstück ist wahnsinnig lecker und das Personal super lieb und zuvorkommend. Wie kommen definitiv wieder! :)

May 2023

---

Highly recommended

The apartment was very nicely decorated & we had a great view from the terrace. The breakfast was excellent and was individually prepared for us - very nice hospitality!

November 2022

---

Mandy H.

Absolutely perfect.

We loved everything about our r. Tanya was super kind, helping us arrange a taxi from the port, providing restaurant recommendations, etc. The Dreamers Club was indeed a dream! It is a perfect place to vacation and I wish I could live forever. Btw, you must order the breakfast . . . so good. Highly recommend!

October 2022

---

Alexsia S.

Everything about our stay was fantastic!

The location, the unit, the wonderful breakfast and communication with Tanya was exceptional. Tanya was a wonderful host and always responded to any questions we had. She offered recommendations for dinner and places to see. The breakfast was delicious fresh and healthy (definitely worth to extra cost). The ability to use the bikes and explore was also a plus. We loved our stay so much that we extended it another night. We can't wait to come back to this beautiful and relaxing gem!!!

October 2022

---

---

Petra O.

Unknown

The best. Top. 👍👍👍

July 2022

---

Laura L. (

United Kingdom

)

Simply Amazing!

I don't know where to start.... I guess first the friendliness and flexibility, having to change our plans twice due to Covid, they were so accommodating. Comms were fantastic from the very first exchange of emails right up until our arrival where Tanja, the owner, met us and showed us around this truly beautiful place. Our apartment (Arabia) was just perfect. A great terrace area and comfortable and clean throughout. The communal areas were fabulous...the cabanas, the hammock, the tree house and trampoline for the children...as well as the resident cats that our daughters helped to feed every morning. The breakfasts were the highlight though, the BEST hotel breakfast we have ever had, 5 courses most days with beautiful coffee and freshly squeezed orange juice. Healthy, creative food like we've never had before. Our children loved it and Olya was so flexible with and accommodating with their tastes, but we all loved every delicious breakfast treat we were surprised with. Great location, peaceful and tranquil but walkable to many restaurants, a lovely beach bar and all amenities...supermarket, kayak hire etc. We will definitely be back. Simply amazing!

June 2022

---
€106.00

→

€480.00

/ night
Book Now
Simple and safe
We don't forget about our guest the minute they book with us, but keep in touch throughout their holiday if needed. During your holiday we are there for you 24/7, accessible via phone number + 386 41 806 608 - send us an SMS (Whatsapp) or call us and we will respond gladly!
You get authentic information
What we tell you is 100% true. We hate making things look better. If you have small children and you want to make a reservation for a villa that has rocky beach in front of it, we will tell you that it is not ideal for the toddlers.
We are there!
When on holidays, we are there for you, weather you need help in searching for the vet doctor or a suggestion for a great restaurant in the town.
Fall in love with Adriatic Coast
We experience each of our locations personally, so we are giving our guests first-hand tips & tricks, just the way we would give it to our closest friend. We want you to come home in love with in this beautiful Adriatic coast at least as half as we are.