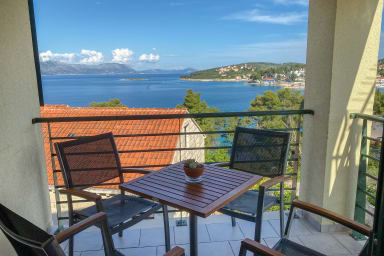 Eco apartments Sunshine - Olive Tree for 4
Apartment in Korcula Island, Dalmatian Coast
---
2-4

People

1

Bedroom

1

Bathroom

45m²
Popular family holiday destination in Lumbarda on Korcula Island, this Apartment house is only 60 m away from the first beach and features a private heated Pool. Watch the sunrise from the balcony with sea view, do your morning yoga on a wooden terrace or take a 20-minutes boat ride to a popular kiting and winsurfung spot across the Channel in Viganj - memorable expereinces guaranteed!
Welcome to Eco Sunshine, an exquisite apartment complex in the charming town of Lumbarda, situated just 60 meters from the first beach and a mere 6 kilometres from the old town of Korcula. Our 5 luxurious apartments have undergone a recent renovation and are fully self-sufficient, boasting photovoltaic panels that provide eco-friendly electricity.
The apartments are located in a peaceful area, yet conveniently close to the town center where you can find an array of amenities such as cafes, restaurants, supermarkets, a post office, and taxi services. Start your day by taking in breathtaking sunrises from your balcony that overlooks the sea.
All of our apartments are air-conditioned, with 2 units in each apartment, fully equipped with a kitchen, bathroom, LCD satellite TV, and free Wi-Fi internet. Car parking is also available on the premises. The apartment house also has a charging station for electric vehicles.
Our Olive Tree apartment on the ground floor features a newly renovated bathroom, 1 bedroom, and 45 square meters of living space. The living room contains a pull-out sofa bed that can accommodate two people, while the bedroom has enough space for a baby cot. There is also a cozy terrace for outdoor dining, relaxation, or reading the newspaper.
Explore Lumbarda's three distinct beach types, with the nearest one being just 60 meters downhill (rocky), and the two most popular sandy beaches just 2 kilometers away, which can be easily reached by bicycle or car (parking provided). You can also use Lumbarda as a starting point for discovering the island, such as the Pupnat harbor, the Proizd island with its pebble beaches, which you can visit by boat from Vela Luka, and the beautiful old town of Korcula.
Apart from the convenient amenities, one of the biggest perks of staying with us is our private outdoor heated pool, which also features a separate section for toddlers. This pool is dedicated solely to our guests and offers magnificent views of the sea and a shaded area in the afternoon to protect children from the sun. The pool is open from April to October, so you can enjoy it throughout most of the year.
While the little ones play in the pool, parents can relax on sun chairs, surf the internet, or prepare a scrumptious dinner with fresh fish from the market on the outdoor barbecue grill. There are two barbecues available for our guests, ensuring that there is always enough space. Next to the pool, there is also a covered terrace complete with tables and chairs, where families can gather, socialize, and enjoy the delicious barbecue specialities with an ocean view.
Lastly, the nearest bus stop is just a short walk away, and the local bus service operates until the evening.
How to reach Lumbarda
By Airplane:
The most convenient way to reach Lumbarda is by flying to Dubrovnik International Airport or Split International Airport. From either airport, you can take a comfortable catamaran ride to Korcula town. Once you arrive in Korcula, it's just a quick 10-minute taxi (20,00 €) or bus ride to your apartment in Lumbarda.
By Car:
If you're travelling by car, there are three main routes to consider. The first option is to drive from any point in Europe, passing through Slovenia, and reach the coastal town of Split, which boasts a large ferry harbour. From there, you can take a 2.5-hour ferry ride to Vela Luka, a town on Korcula Island. From Vela Luka, it's only a 45-minute drive to Lumbarda.
The second option is to pass through Split and reach the coastal town of Ploce, where you can board a ferry to Trpanj on the Peljesac Peninsula. From Trpanj, it's just a 25-minute drive to the harbor town of Orebic, where you can catch a car ferry to Korcula Island. From there, it's only a short 5-kilometre drive to Lumbarda.
The third and newest option is to cross the Pelješki Bridge from the town of Komarna. This stunning bridge offers breathtaking views of the surrounding landscape as you drive towards Brijesta, and from there, it's only a 45-minute drive to Orebic. Once you arrive in Orebic, you can catch a ferry to Korcula (Dominče). From there, it's only a short 5-kilometer drive to Lumbarda.
+ More
Less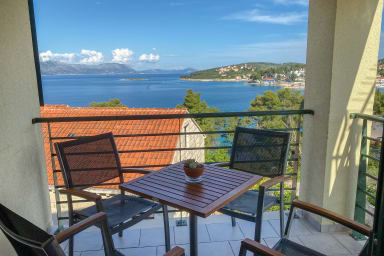 Wonderful wooden terrace with fat boys
The first beach is right under the vacation house
Korcula Island is known for its wonderful bays
Enjoy the magical sunsets in Lumbarda
At the property you can rent mountain biked for 5,00 €/day
Discover some wonderful parts of Korcula Island with bikes
Korcula old town is full of tasty restaurants and art galleries
The Space
Accommodates: 2-4
Bedrooms: 1
Bathrooms: 1
Property Type: Apartment
Check-in: 16:00
Check-out: 10:00
---
Amenities
Laptop Friendly Workspace

Long Term Rentals Available

Rainwater harvesting system

Paperless / recycled paper

Suitable for children (2+ years old)

Suitable for infants (under 2 years)

Sustainability projects support

Towels changed upon request
Katja K.

Korcula as always great location

We had great vacation. What you can do better: the wifi connection was very bad and the bikes are not ok.

August 2023

---

Susan

One-night stay at this place was absolutely fantastic!

The heated pool was a delightful feature, and what I personally loved the most, was the sun terrace located right above it. I couldn't resist spending time there, whether it was for stretching, doing pilates, or simply soaking in the breathtaking view. I can't wait to return for a longer period next time! Highly recommended

July 2023

---

Steffi &.

Our stay at this apartment was simply amazing.

The stunning sea view, comfortable bed, and two air conditioning units made our experience even more enjoyable. We loved the BBQ area and spent delightful moments on the sunny terrace by the pool. The hosts were exceptional, ensuring we had everything we needed. Thank you for creating unforgettable memories!

July 2023

---

Paradise does exist

This is an amazing little paradise. Great energy, beautiful location, amazing hosts. I can recommend this place wholeheartedly without any hesitation. From the garden you have amazing views over the sea, a nice pool and many different spots to just hang out and chill. You even have a separte terrace for morning yoga The location is in a very beautiful and quiet neighborhood. They even have free bikes on the property. The most beautiful and pristine beaches of the island are literally infront of your door. Also Korčula Old Town is either 7 minutes by car or about 25 minutes by bike. And if you want the best breakfast experience ever, go to their other property Dreamer's Club on the other side of the bay and be surprised by the jawdropping location and the selection of breakfast items you get served. I just fell in love with the place and will definitely return. THANKS from my heart to Tanja and the entire team - you are doing an incredible job ❤

June 2023

---

Evelina M.

Apartment was perfect.

I wish we were able to stay longer to enjoy the apartment and it's amenities to the fullest. Tanya was great, reached out to me right away. The apartment was spacious, most importantly it was clean, the morning view from balcony was breathtaking. I would definitely stay here again.

October 2022

---

Robert a.

Cozy stay with heated pool!

Perfect one night stay in this comfortable apartment with pool. The host was amazing with her suggestions and tips about the local konobas and surroundings. Will be back but for a longer period of time. Thank you!

September 2022

---

Ninna E.

Will be back

The location is perfekt - sea and pool in combination and the beautiful view of the bay. Tanja and her Team were the best and we felt welcome from the first contact. And we decided to stay longer because this place just has what you need and the atmosphere is great.

May 2022

---

Tjaša M.

Amazing stay in late April!

We had a great stay with my family in this lovely house with heated pool, which was a big plus for a stay in late April. Kids loved the pool and the weather was pretty warm and sunny all the time. Apartment is really comfortable and newly renovated. And the sea view from the terrace is beautiful. I enjoyed my morning coffee and breakfast while soaking up the view, every single day :) In the evening we used big table on the terrace by the pool and BBQ. It's an excellent meeting point for families and enjoying in barbecue specialities which you can eat on the terrace overlooking the sea.

May 2022

---
€76.00

→

€247.00

/ night
Book Now
Simple and safe
We don't forget about our guest the minute they book with us, but keep in touch throughout their holiday if needed. During your holiday we are there for you 24/7, accessible via phone number + 386 41 806 608 - send us an SMS (Whatsapp) or call us and we will respond gladly!
You get authentic information
What we tell you is 100% true. We hate making things look better. If you have small children and you want to make a reservation for a villa that has rocky beach in front of it, we will tell you that it is not ideal for the toddlers.
We are there!
When on holidays, we are there for you, weather you need help in searching for the vet doctor or a suggestion for a great restaurant in the town.
Fall in love with Adriatic Coast
We experience each of our locations personally, so we are giving our guests first-hand tips & tricks, just the way we would give it to our closest friend. We want you to come home in love with in this beautiful Adriatic coast at least as half as we are.