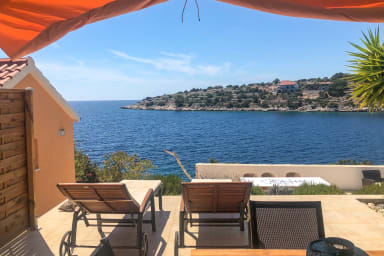 Apartment Tranquillo
Apartment in Korcula Island, Dalmatian Coast
---
4-5

People

2

Bedrooms

1

Bathroom

70m²
Beach-front position in a mass-tourism free bay guarantees peaceful, holidays with recharge opportunities from surrounding nature, romantic sunsets.
BEACH
Directly under the sunny terrace there are 15 steps, which lead to a private (rocky) beach with concrete plateaus and a pier, from where you can jump into the sea or use the dock ladder. There are sun umbrellas and sun loungers provided on the private beach.
Pebble beach enthusiasts should visit the Gradina bay just 1 km away from the apartment, or make a trip to the Proizd Island, just 20 minutes from the apartments with a rented boat or 40 minutes with a local taxi boat (departing 4 x times a day from
Vela Luka to island Proizd). This special Island was selected as the most popular beach in the Adriatic Sea in 2008. It has 4 beautiful pebble beaches, one of which is nudist (FKK).
SURROUNDINGS
Stracincica is a small bay 5 km away from Vela Luka centre (diametrically on the other side of the island of Korcula, where the historical town of Korcula lies). To reach Stracincica, you need to drive past the local villages 10 min away from Vela Luka centre, where the ferry brings you from Split and where you will find all the shops, ice cream, post office, local market, bakery, restaurants and bars.
The first restaurant is just 1 km away from the apartment, in Gradina Bay. They have a very delicious Mediterranean food with lots of fresh fish and a wonderful beach-front location. Next restaurant is 3 km away (Miletic restaurant) and this one is the most authentic Mediterranean places on the Island.
The bay doesn't know mass tourism. It is a very quiet, peaceful bay with but a few tourists, no shops, restaurants and other similar facilities (all this is available at Vela Luka, 5 km away), so the experience of your holidays is "away from it all".
Although the house features 2 three-bedroom apartments; each ofers privacy and intimacy and, of course its own entry, terrace, place on the beach and parking spot.
TANYA´S IMPRESSION
I fell in love with the honeymoon bedroom. Not only do you fall asleep with the sound of
the waves, but the best thing is, you can wake up with the beautiful view to the sea!
I loved the feeling of a wood under my feet – when you get up from your bed you
instinctively go to bedroom balcony, which has the wood on the floor.
I will never forget the father of the owner, when he was watching the workers put this couple of wooded panels on the floor in front of the bedroom, as he was commenting: "I just don't understand my daughter. Why does she need this couple of wooden panels here?" I started laughing and explained to him how great the feeling is, when you wake up and put your bare foot to this gently ribbed wooden panel, warm from the morning sun, breathe deeply the fresh sea air and say: Good morning, Sunshine. It is a ritual, that only women can understand… "
The whole Stracincica bay has a magic spell. This endless blue horizon, dramatically colourful sunsets, peacefulness of the mornings and evening, it is just magical.
It completely hypnotize all living creatures. It is impossible to explain how I feel every time when I am there (regularly once a year)... You need to experience it. For all the rest, you need MasterCard.
+ More
Less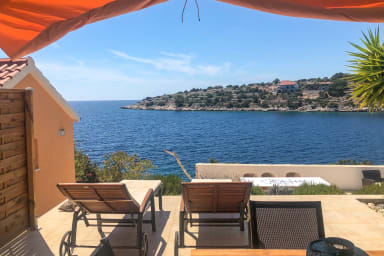 The Space
Accommodates: 4-5
Bedrooms: 2
Bathrooms: 1
Property Type: Apartment
Check-in: 15:00
Check-out: 10:00
---
Amenities
Suitable for children (2+ years old)
Die Lage mit Blick über das Meer und die Bucht ist phantastisch.

Wir waren in der Nachsaison, so dass es total ruhig war. Auch mit unserem Hund war der Aufenthalt unproblematisch.

October 2022

---
€79.00

→

€260.00

/ night
Book Now
Simple and safe
We don't forget about our guest the minute they book with us, but keep in touch throughout their holiday if needed. During your holiday we are there for you 24/7, accessible via phone number + 386 41 806 608 - send us an SMS (Whatsapp) or call us and we will respond gladly!
You get authentic information
What we tell you is 100% true. We hate making things look better. If you have small children and you want to make a reservation for a villa that has rocky beach in front of it, we will tell you that it is not ideal for the toddlers.
We are there!
When on holidays, we are there for you, weather you need help in searching for the vet doctor or a suggestion for a great restaurant in the town.
Fall in love with Adriatic Coast
We experience each of our locations personally, so we are giving our guests first-hand tips & tricks, just the way we would give it to our closest friend. We want you to come home in love with in this beautiful Adriatic coast at least as half as we are.