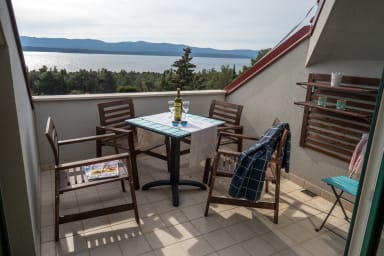 3-bedroom Penthouse apartment Zen in Bol
Apartma v Otok Brač, Jadranska obala
---
8

Oseb

3

Spalnice

2

Kopalnice

85m²
Discover a luxury 3-bedroom apartment with stunning sea views, situated a mere 1 km away from the renowned Golden Horn beach in Croatia.
Welcome to a spacious and beautifully decorated mansard apartment that exudes Mediterranean charm in every detail. Located just 1 km away from the famous Golden Horn beach in Croatia, this stylish summer retreat boasts a fabulous beach view terrace, 2 yoga mattresses, and ecological cleaning agents, making it the perfect vacation oasis.
Situated on the third floor of a small villa building, this penthouse apartment offers a generous 70 m2 of open space layout, with a bright and airy ambience that is bathed in natural sunlight. The apartment features an efficient air conditioning system that maintains a pleasant temperature even during the hottest summer days.
Accommodating up to 6 people, with an option to accommodate 8, if two children sleep on the sofa, this apartment includes three comfortable bedrooms, with double beds in each. The master bedroom is spacious and includes an ensuite bathroom with a shower, while the two additional bedrooms share a second bathroom that comes equipped with a toilet, shower, and washing machine.
The spacious living room offers a pull-out sofa for two, air conditioning, Wi-Fi, and SAT TV, along with a dining area that features a large table and six chairs. The modern, fully equipped kitchen includes a cooker with an oven, refrigerator, coffee machine, dishwasher, and kettle, providing ample space for preparing meals with friends and family.
Step outside to the terrace and enjoy the stunning views of the Adriatic Sea and neighbouring Island Hvar while sipping your morning coffee or a glass of local wine in the evening.
Located only a few walking minutes away, the center of Bol offers a variety of cocktail bars, restaurants, bakeries, and souvenir shops, while the nearest restaurant is just 100 m away, and the first grocery store is 250 m away. The bus station is only 800 m away, and the port where the catamaran stops is 1100 m away.
The nearest pebble beach is just a 4-5 minute walk away, or take a leisurely stroll along the tree-lined promenade that leads to the famous Zlatni Rat beach, just a 20-minute walk from the apartment. Another nearby beach worth visiting is Martinica beach, about 1.5 km away, offering a lovely pebble beach and wind protection.
Bol is well-known for its light summer breeze, Maestral, which attracts windsurfers and kitesurfers from around the world. The town centre features several lovely cocktail bars, such as Varadero and Bolero, while the beach stands at Zlatni Rat beach offer freshly cut fruits, healthy ice shakes, and pancakes with chocolate.
Visit the nearby village of Marija, a 5-minute drive from the apartment, to sample delicious seafood at the good restaurant. Or venture a bit further down the macadam road to the hidden gem, Chicco, known only to locals and VIP tourists, and enjoy the stunning views of the pebble beach below.
+ Več
Less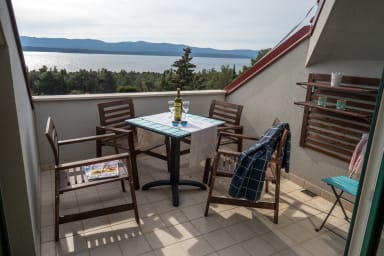 Prostor
Prostora za: 8
Spalnice: 3
Kopalnice: 2
Vrsta namestitve: Apartma
Prihod: 16:00
Odhod: 10:00
---
Udobje
Popolnoma opremljena kuhinja

Prenosnemu računalniku prilagojeno delovno okolje

Primerno za otroke (2+ let)

Primerno za dojenčke (mlajše od 2 let)
Beautiful holidays

We were very happy to stay in your 3-bedroom penhouse apartment zen for 7 days. We loved that it was so clean and new, and the view from the balcony was marvellous! We were also very happy with the location, - close to everything but quiet and safe. It was excellent and we would highly recommend it to our friends and family. Ivona, our contactperson, was very serviceminded and kind to us. She always answered our questions and did her very best. She made our stay perfect! Thank you very much, Ivona! We would love to come back.

avgust 2022

---

Tanja D.

Beautiful apartment in Bol!

The accommodation was beautiful, clean, everything in perfect order and functional, the views of the sea, mountains and surroundings were amazing, the host Ivona was very nice, willing, explained everything well and gave advice and tips about what to do here and explore. I can only recommend the accommodation, we were very satisfied with everything.

avgust 2022

---

We were very satisfied with the accommodation

We were very satisfied with the accommodation, cleanliness, everything fully functional, excellent equipment, the host Ivona was also great, she explained everything to us beautifully, gave us advice and had everything beautifully prepared and clean for us. There were beautiful views from the terrace and the beach was also close. We liked the accommodation very much and I can only recommend it and we would love to come back again. Have a great time, thank you very much for the nice accommodation.

julij 2022

---
€89.00

→

€290.00

/ noč
Rezerviraj zdaj
Varno - vedno z vami!
Na našega gosta ne pozabimo takoj, ko je rezervacija končana, temveč smo z njim ves čas njegovega letovanja. V času letovanja ali potovanja smo dostopni na dežurni mobilni številki 031 606 608, tudi (in predvsem) ob vikendih in v večernih urah.
Dobite avtentično informacijo
Naši napotki niso standardne turistične floskule. Skoraj vsaka informacija se začne s stavkom: "Ko sem bila jaz tam...". Kar vam povemo, 100% drži. Sovražimo olepševanja in zavajanja.
Tukaj smo za vas!
Cel čas letovanja smo za vas dosegljivi na dežurni mobilni telefonski številki. Ko zgrešite trajekt, potrebujete zdravnika ali samo informacijo, kje se v Korčuli dobro je, smo za vas dosegljivi in vam vedno pomagamo, tudi ob vikendih ali večernih urah.
Zaljubite se v Jadran
Vsako od naših lokacij preizkusimo osebno, zato z gosti delimo nasvete in trike iz prve roke, tako kot bi jih dali najbližjemu prijatelju. Želimo, da se iz te čudovite jadranske obale vrnete domov zaljubljen vsaj pol kot mi.